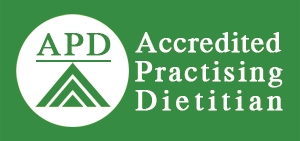 Becoming a dietitian back in 1998 required two university degrees:
Bachelor of Science "Nutrition and Food Science"
Bachelor of Science "Dietetics" with "First Class Honors"
I completed university in 2002 at Curtin University of Technology in Western Australia.
Since graduation, I have maintained accredited practising dietitian (APD) status. As an APD I am continually required to complete and document professional development in specific nutrition-related areas of my choice. This is policed by my governing body the Dietitian's Association of Australia.